Achalasia Cardia Dilatation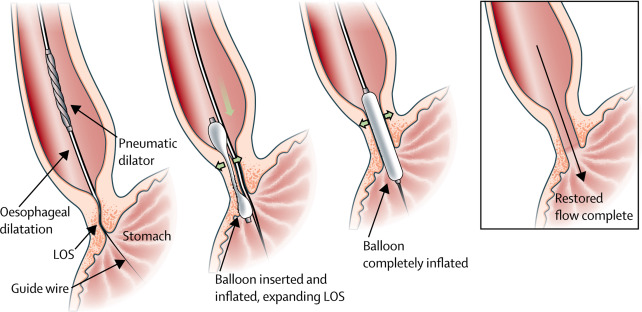 Three tests are most commonly used to diagnose and evaluate a swallowing problem:
Barium swallow. The patient swallows a barium preparation (liquid or other form) and its movement through the esophagus is evaluated using X-ray.
Endoscopy. A flexible, narrow tube called an endoscope is passed into the esophagus and projects images of the inside of the esophagus onto a screen.
Manometry. This test measures the timing and strength of esophageal (pump) contractions and lower esophageal sphincter (valve) relaxation.
If left untreated, achalasia can be debilitating. People with the condition experience considerable weight loss that can result in malnutrition. Lung infections and pneumonia due to aspiration of food can result, particularly in the elderly.
The major symptom of achalasia is usually difficulty with swallowing. Most people are diagnosed between the ages of 25 and 60 years. Although the condition cannot be cured, the symptoms can usually be controlled with treatment. In achalasia, nerve cells in the esophagus (the tube that carries food from the mouth to the stomach) degenerate for reasons that are not known.